5 Creative Ways to Decorate Your Ceiling
Want to create a striking statement in your home?
Look no further, just glance upward! Ceiling designs for homes have taken quite a creative turn, veering away from the plain, vanilla hue we've been so used to in the past. When it comes to ceiling decoration ideas, the sky is, quite literally, the limit. Designer ceilings for homes are the latest trend in interior design and we're here to show you five creative ways to make your ceiling a conversation starter.
1. Play with lights and embellishments
Don't let your ceiling be the white elephant in the room! By playing around with interesting light fixtures, you can add a touch of class to your ceiling. You can even add drama by using light fixtures to throw light into specific areas around the room.
Abstract art installations can also be a great way to play up a staid ceiling, as are mirrors and decals. To add life to ceilings in kids' rooms, you could recreate the galaxy with glow-in-the-dark stickers.
2. Grab that wallpaper
They say the ceiling is the fifth wall, so why not give it the attention it deserves? If you're looking for unique ceiling design ideas, this might just be it. Do things differently and ditch the wallpaper on your walls, rather, use it as the star attraction on your ceiling.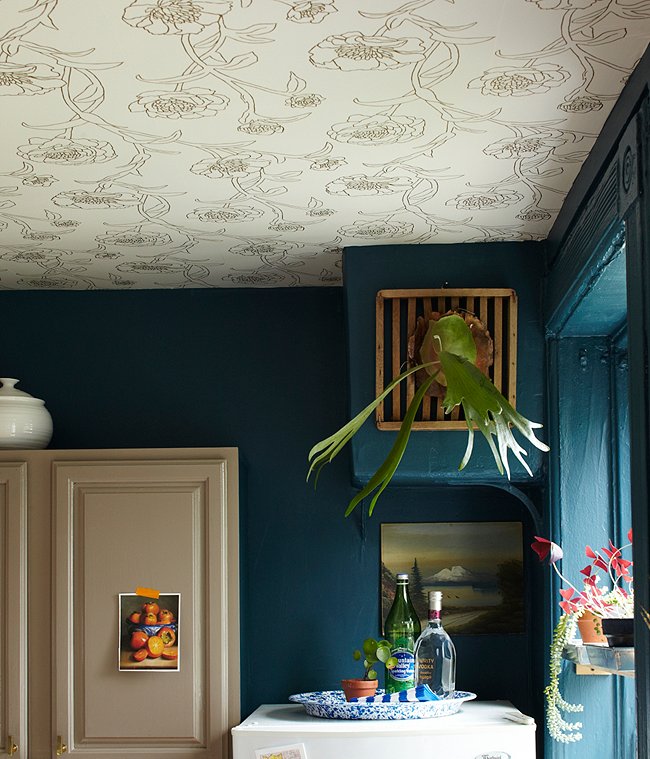 Tie it in with a colour theme that's running through the room and you've got yourself winning home ceiling designs. Who said wallpaper is limited to walls alone?
3. Mix things up
Think out of the box when it comes to your ceilings, they are very forgiving. Add a touch of pizzazz to your ceilings with stained plywood slats, bold patterns like gingham or stripes, fabric strips, brick-work or even abstract lettering.
These ceiling decorations give your room an irresistible personality that's hard to ignore.
4. Unleash your inner Michelangelo
If you're a budding artist, why not use your ceiling as a canvas? It doesn't have to be as elaborate as the Sistine Chapel, but let your creativity flow through and you'll be pleasantly surprised at the outcome. From artwork to a painting of clouds in a blue sky, you can be as creative or unique as you desire.
5. Focus on moldings and trims
If you don't want anything too dramatic, you could try painting the moldings, trims and borders of your ceiling in shades close to the colour of the ceiling itself. It could also be a shade that complements an item of focus in your room.